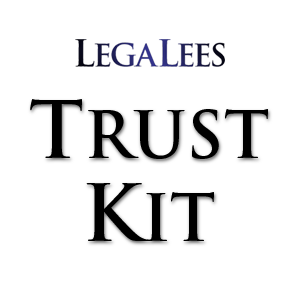 Sure you can write your own revocable living trust.  In fact, you can do it better than a lot of the attorneys.  First you have to ascertain that you really want a trust.   The discussion of your need for a revocable living trust is in another of my articles, but it is safe to say that if you own real property and have a significant estate (over about $50,000), then you could use a trust and it would help your loved ones.
Revocable living trusts and a trust called a "land trust" are quite simple to write, if you get a good kit to help you. I lean toward the kit format of self help rather than the online self-help systems where you answer a few questions and the computer magically spits out a trust document.  Those require little or no thought, and you just end up with a document, but you don't understand the document.  Additionally, you don't know what other options you had and what other issues should have been addressed.  You just got what was produced by the computer.
The computer generated documents and "fill-in-the-blank forms" tend to be short, because they are pitching to the lowest common denominator.  The forms are certainly "legal," but they don't address many of the issues that really should be covered.  This is true whether you are preparing a revocable living trust, corporate bylaws, LLC documents, or any other legal documents.  You need the option to address as many or as few issues as you want, not just what the computer programmer thought you should have.
The language used to address each issue is pretty uniform, but the choice of issues that are covered is unique to each situation.  There are a couple of places in a trust where unique language is often used.  That is, there are a number of different choices in addressing a specific issue, such as how property will be divided among the beneficiaries (heirs) to the trust. 
If you are uncomfortable using a kit or the standard form, then you should use a lawyer who is experienced in drafting trusts.  All lawyers claim to be able to write a trust, but many lawyers simply use a form they get out of one of their form books.  Before I started this article, I googled "Can I Write My Own Trust."  One of the top entries was a law firm.  I clicked on it and their entire website was on criminal defense.  Then they listed their services, and trusts were among all of the other legal topics possible.  The firm was obviously interested in criminal defense, not trusts.  I would use another firm that specializes in trusts.
Lawyers tend to be more expensive than the do it yourself options, and I have seen some horrible work come out of law firms.  Many times I have seen documents where the wrong spouse was named in the document, there are parts of corporations stuck in the middle of the trust document, or trusts are created by the document but there is no way to ever put assets into the trust.  A lot of junk comes out of law firms.  At least the computer generated do it yourself stuff usually hangs together to create a workable trust, even if it doesn't address some of the important issues.
If you fit into 98% of the scenarios, do your own trust.  If you have a taxable estate (either above the federal limit of about $5 million+ or above the state estate taxes limits which are usually around $1 million), then you need an attorney to help you.  You have more to lose if the trust isn't done right.
Most folks don't need to worry about estate taxes, because the federal limit is high and only about 16 states have state estate taxes.  If estate taxes are not an issue and you won't want a really convoluted distribution of the trust estate, then you are in the 98% group.  The primary function of the revocable living trust is simply probate avoidance.
Probate avoidance isn't as much dependent upon the language used in the trust document as it is on the "use" of the trust once it is established.  That's where the form documents and the computer generated documents really fall down.  They don't educate you on how to use the trust.  Even the lawyers seldom teach a client how to use the trust.  Just having a written piece of paper called a trust will not help your family avoid probate.  You have to understand the trust, how it works, and how you use it throughout your lifetime.  Most people (like 90% of the people) who get a revocable living trust don't avoid probate.  The failure isn't in the trust document, but rather the client's use of the trust.
Nolo Press has a pretty good trust kit for sale.  LegaLees has a very good trust kit (it is a key section of my Accumulation and Preservation of Wealth System).  The LegaLees kit has computer files for a number of different types of trusts.  For example, a single person uses a very different trust than a married couple, or a non-taxable estate uses a very different trust than a taxable estate.  In conjunction with the computer text files, the LegaLees kit has several hours of audio instructions on how to set up the trust, so you can create quite a unique trust.  It also covers how to use your trust once it is established.  This is key to your trust actually working when it is time.  So very many people end up in probate despite having a trust because they didn't know what to do with it once it was created.
Whether you do it yourself or pay the lawyer, a trust can be a great gift to your family when you become incompetent or die.