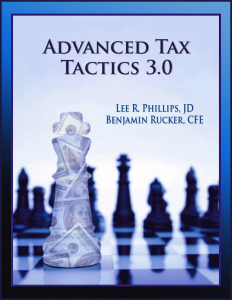 Digital Version: $799
Physical Version (Digital Version included): $824

Digital version received via email; the printed version will ship when it comes back from the printers.
Advanced Tax Tactics has been fully updated to teach you how to take advantage of the new Trump tax laws. Two of the best tutors in the area of taxes and asset protection bring the tax laws down to earth so you get the practical instruction on how to use them. Not only do you get more money, you cut your audit risk substantially. Former IRS Special Auditor Ben Rucker has joined Lee to give you the inside scoop on how to save on your taxes by proactively setting yourself up for success.  Using these legal tools will enable you to keep more of the money you make.
3 HOURS of Advanced Tax Tactics Audio Training
Detailed Business Matrix of how and why to choose what business entity to set up as for maximum savings (and bonus: asset protection)
Companion Manual with Reference Material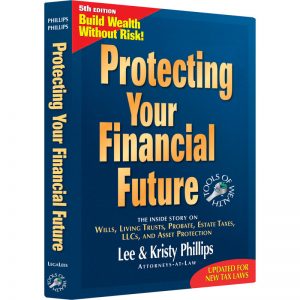 $24.95
$19.95

This book is the bible for tens of thousands of people; it lets YOU keep more money using the law. It isn't a stuffy legal book either. You will laugh and you will cry as you learn about the law. You'll understand estate planning and asset protection. And never again will an attorney be able to pull a fast one because next time you talk to your lawyers, you'll know exactly what you need and how to do it!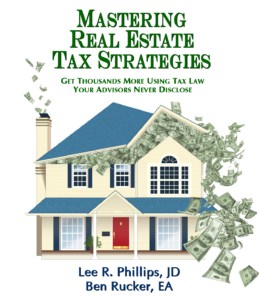 $2999 
$2499

Mastering Real Estate Tax Strategies is a unique opportunity for real estate investors to up their real estate investment returns.  It's a five-hour video tutorial with supporting hard copy materials that walks you through how to use real estate as a tax shelter. Mastering Real Estate Tax Strategies gives you two ways to get even your W2 income tax burden cut by owning real estate. Even seasoned real estate investors are shocked by the money they have missed.  Don't give the IRS another dime that's rightfully yours.  Look at what you'll get:
More money
Less stress
Reduced risk of IRS audit
A system to make real estate tax reporting fast and reduce the pain
Protection of your real estate from lawsuits, financial downturns, and bad investments
Your tax bill slashed
A way to sell and acquire real estate without paying capital gains tax
Super charged retirement savings
An understanding of your real estate numbers
A way to defer or even eliminate taxes on the sale of investment real estate
Three ways to change the classification of improvements to repairs for get an immediate tax deduction
A blueprint to use cost segregation along with bonus depreciation to accelerate tax benefits
Higher returns on real estate investing
$2499.00

Personal Planning, Business Planning, Retirement & Benefits Planning–All In ONE!
Complete course with proven strategies on effective tax planning, estate planning and asset protection for your business and personal affairs. The course takes you by the hand and shows you step by step how to use the law to make money and protect your assets.
You get the entire Accumulation and Preservation of Wealth System collection, containing:
752 pages of instruction
Flash drive with:

Over 10 hours of audio tutorial on Personal Planning and Protection
Over 3 hours of audio tutorial on Business Structuring and Maintenance
Over 3 hours of audio tutorial on Benefit Plans and Retirement Savings Plans
Library of documents containing the document templates used in our law firm
AND all of these other great products:
Winning the Identity Theft War protection system
Personal Consultation from LegaLees LLC
Family Licensing Rights 

Full Wizard System: $1999.00
Everything from BOTH the Starter and Advanced Packages in digital AND written/CD form, PLUS free access to our
ATTORNEY HOTLINE

!

So much more than just another set of instructions–this system even includes access to LLC-specializing expert attorneys to answer your questions! The LLC Wizard materials themselves explain how to double your asset protection and get a lot more spendable cash out of your LLC. It will help you set up, operate and get the benefits out of your own boutique LLC in 6 easy steps. It works in any state and can easily be done from home using simple and powerful legal and tax strategies. See https://www.legalees.com/llc-packages/ for information on the individual packages and here for more information on the full Wizard.
Everything from the Starter Package PLUS instructions and forms that provide you with the tools you NEED to use to maintain your LLC for maximum asset protection.  Don't miss making sure that you follow through with the needed formalities for your business.

Everything you need to get started with instructions on filing your Articles of Organization and writing up your Operating Agreement.  Includes everything in the Complete LLC Operating agreement PLUS step-by-step audio explanations that walk you through what you do (and don't) need to include in the Articles of Organization that you file with your state in order to officially form your business.

$97.00 SALE: $47.00!!
The complete LLC Operating Agreement details company operations, what happens if creditors come after you, what happens if you die, and dozens of other issues surrounding your LLC. It is customizable to your needs and easy to use. It goes way beyond the standard forms and will save you both money and frustration.
This is our top selling product.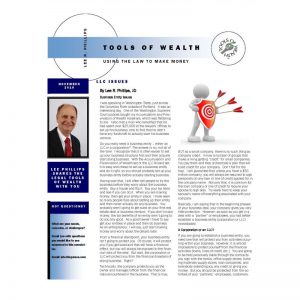 Monthly Subscription
$29.92

SALE:

$19.92

per month
Each month, the Tools of Wealth monthly newsletter will show you overlooked legal tools and ideas that will help you in your business and your personal life. The newsletter is mailed to you on the 25th of every month. Make sure your financial future is built on a strong foundation.
Monthly Charge $19.92
SAVE
47%

with Year in Advance:

$191.24 

$29.99

This is a comprehensive ebook on how to deal with an IRS audit. It includes strategies on how to prevent an audit and what to do if you get the letter.
$24.99 SALE:
$19.99!!

Giving money to life insurance companies may be one of your biggest continuous cash drains. If you feel your skin crawl when you hear, "Trust Me! I'm your insurance agent," we can help. Our audio presentation on how to evaluate a life insurance policy shows you the ins and outs of life insurance. Life insurance is actually the sweetheart of the IRS code. Yes, it a critical part of your financial structure, but you had better know what you are doing. The problem is almost everyone gets taken to the cleaners by the insurance agent, and then the insurance company itself finishes the job by wringing out your last dime.
Did you know that you could be getting twice the insurance for the same dollar, using the same policy? Are you "investing" using insurance policies? Investing using a life insurance policy could actually be a really great deal, because of the tax advantages! Did you know that if your insurance agent does a good job for you, he makes hardly any money? Whose interest do you think he really has in mind? My "How to Evaluate a Life Insurance Policy," gives you an unbiased lawyer's analysis of life insurance.
How to buy it
What to look for, so you don't get taken
How to make a life insurance policy mimic a Roth IRA
And importantly, which insurance companies are going to survive tough economic times?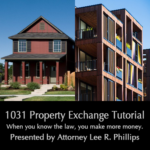 $119.99 SALE:
$15.99!!

Sell your real estate and get another piece of real estate without paying any tax. That's an old trick with 1031 exchanges. Did you know you could sell your real estate, not pay the tax, and not end up with another piece of real estate? Our clients that got out of real estate without paying the tax are sure happy today. Get a new look at 1031 Exchanges.
There are tons of ways you can use IRS Code Section 1031. You can buy your new piece of property first, then sell your old property. You can exchange bulls for bulls (not for cows, because they're not "like kind"). 1031 has been the sweetheart trick of real estate investors for decades. They can sell one property and get another one without paying the tax. Your deals are worth a lot of money. The taxes could be substantial. If you are selling a piece of real estate and you don't want to pay the tax today, you need to learn what ALL of your options are. Order today!
***Digital Delivery only***
$250.00

  
SALE:
$199.00

Identity theft is the fastest growing crime in America and increasing about 47% per year. 11% of identity theft occurs online, and it takes about $2300 and 200 hours to fix a problem. Get Winning the Identity Theft War today and avoid the problems.
Step by step tips to minimize your risk
Comprehensive Identity Theft Vulnerability test
Pointers on keeping your personal information private
What to do if your ID is stolen
$14.99

This e-book takes you step by step through how to use charging order protection in addition to the "corporate shield" an LLC offers.